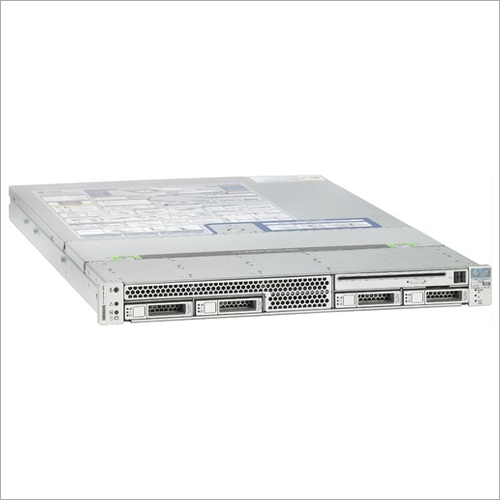 Product Description
Introducing the world's most innovative server designed with the highest compute density – up to128 threads in one rack unit (1RU).The Sun SPARC®Enterprise T5140 server delivers multi-dimensional efficiency with world-record throughput, as well as ground-breaking energy and space efficiency all at a low cost and without tradeoffs. No other server on the planet better empowers organizations to virtualize their compute infrastructures and build highly scalable highly efficient, and robust internet infrastructures for the delivery of breakthrough services over the Web.

Highlights
Up to 128 compute threads per server and 5,120 threads per rack – 32x higher compute density than comparable x86 systems
World's firs dual-socket, general-purpose server powered by the 3rd generation UltraSPARC® T2 Plus "system on a chip processor
Multi-dimensional efficiency with world record through put along with ground breaking energy and space efficiency without tradeoffs
Integrated flexible open source and no-cost virtualization technology enabling break through virtualization and consolidation
Integrated on-chip cryptographic acceleration and on-board 10-gigabit Ethernet for secure computing and high-speed networking
The industry's most open platform, built on open source technologies and open standards
Industry-standard systems management and no-cost development and deployment tools to speed time to service at lowest cost
Extreme levels of reliability and up time through integrated and simplified design resulting in fewest parts in class
Award-winning Sun Services to maximize eco-efficiency and virtualization
Sun SPARC Enterprise T5140 Server Specifications
Key applications

Virtualization and consolidation
Data-intensive applications
Security applications
Web, middleware, and application tier workloads, especially Java environments
OLTP databases
Multithreaded HPC workloads with large instruction and data sets
New web services deployments
SOA infrastructure implementations
Processor

Processor Four-, six-, and eight-core 1.2-GHz UltraSPARC T2 Plus processors; two processors per system, maximum 128 threads
Architecture SPARC V9 architecture, ECC protected
Cache processor per 4-MB integrated L2
Other processor key features

One floating-point unit per core, up to eight per processor
On board cryptography supporting 10 embedded security industry-standard ciphers: DES 3DES, AES, RC4, SHA1, SHA256, MD5, RSA to 2048 key, ECC, CRC32
Key RAS features

Hot-pluggable disk drives
Redundant hot-swappable power supplies
Redundant hot-swappable fans
Up to eight hot-swappable system fan modules
Environmental monitoring
Error correction and parity checking
Easy component replacement
Internal hardware drive mirroring (RAID 1)
RAID 0 and 1 support
Ultra-low part count with 20% fewer parts than competitive 2-socket x86 systems
Standard integration interfaces
Network Four 10/100/1000 Mbps Ethernet; Up to 2x optional 10 GbE XAUI connections*

Expansion bus
One dedicated eight-lane PCIe expansion slot
Two eight-lane PCIe or XAUI expansion slots

Ports
Four USB 2.0 ports
One RJ-45 serial management port
One 10/100 Mbps ethernet network management port
One DB-9 serial port
Mass storage and media

Internal disk Up to four 73-GB or 146-GB SAS disks
Internal DVD One slimline DVD+/-RW
External storage Sun offers a complete line of best-in-class, innovative storage hardware, software, and solutions including tape drives, tape libraries disk storage systems data management software, and more along with renowned world-class service and support. For more information, go to sun.com/storagetek.
Contact Us
Mumbai (Head Office): 3, DLH Park, S. V. Road, Goregaon (West), Mumbai, Maharashtra, 400062, India
Phone :+918068094533