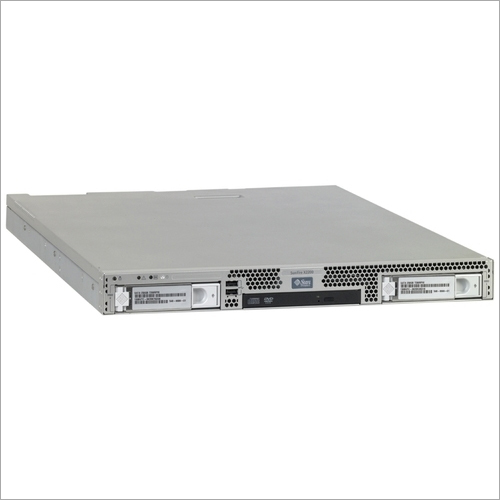 Product Description
The Sun Fireâ"¢ X2200 server has multiple world-record performance benchmarks and twice the memory capacity of industry-standard servers, and is ideal for running simulations and numerical modeling with large data sets. It is a top choice for businesses looking for performance, manageability, and energy and space efficiency on a budget.

Performance and a whole lot more
The Sun Fire X2200 server is the highest-performing four-way x64 server optimized for energy and space efficiency. Its design incorporates high-performance, low-latency Hyper Transport technology, high-speed DDR2 memory, and the new industry-standard PCI- Express interconnect. With up to twice the memory capacity of other servers in its class, it enables users to do more with less—carry out heavy workloads or process large data sets. The Sun Fire X2200 server is the perfect choice for high-performance computing, Web services, and server consolidation.

Flexibility
The Sun Fire X2200 server runs 32-bit and 64-bit applications, delivering industry-standard x64 computing. It runs virtually any operating system, including the Solaris OS, Linux, Windows, and VMware.

Scalability
The Sun Fire X2200 server offers the economies of scale of x64 computing. The server is perfect for leveraging multiple low- price servers for high availability.

Manageability
The Sun Fire X2200 server also eases system management. Embedded Lights Out Manager enables remote and centralized system management while maximizing availability, and can also be integrated with N1 System Manager or existing management environments. It simplifies data center management, system configuration, and life cycle management, as well as software provisioning and updates.

The Sun Fire X2200 server is the best solution for businesses that want superior performance, memory capacity, and energy efficiency—and streamlined system management—in the smallest possible footprint.

Sun Fire X2200 server

Processor
Up to two Next-Generation AMD Opteronâ"¢processors, model 2000 series (L1 F (1207) socket). One-MB Level 2 cache per core. Provides AMD Virtualizationâ"¢ and PowerNow!â"¢ Technology

Main memory
Eight DIMM slots per CPU; total 16-DIMM slots. DDR2/667 registered ECC DIMMs (128-bit plus ECC databus). One GB, two GB, four GB DIMM supported. System configurations from two GB to 64 GB
System architecture
8.0 GB/sec. Hyper Transportâ"¢ link; 10.6 GB/sec. link between processor and memory Onboard 2-D graphics controller

Standard/integrated interfaces

Network: Four 10/100/1000 Base-T Ethernet ports
Network Management : One 10/100/1000 bast-T Gigabit Ethernet port through shared access to one of the four system Ethernet ports
Serial: One DB9 port
SATA: Two-channel SATA-II interface, internal only
USB: Six USB 2.0 ports (two front, four rear)
Expansion bus

Riser card assembly with two internal eight-lane 64-bit PCI- Express expansion slots (low-profile, half-length)
Software
Supported operating systems:

Solaris 10 06/06 Operating System, 64-bit
Red Hat Enterprise Linux 3 U8, 32-bit/64-bit
Red Hat Enterprise Linux 4 U4, 32-bit/64-bit
SUSE LINUX Enterprise Server 9 SP3, 64-bit
Windows Server 2003, Standard or Enterprise edition, 32-bit/64-bit
VMware ESX 3.0
Contact Us
Mumbai (Head Office): 3, DLH Park, S. V. Road, Goregaon (West), Mumbai, Maharashtra, 400062, India
Phone :+918068094533