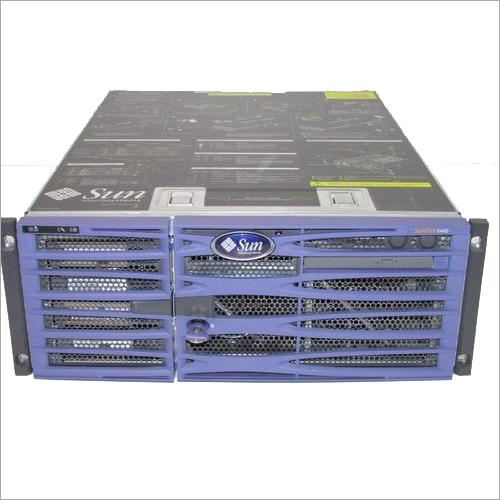 Product Description
Value, Availability, and Manageability
The Sun Fire V440 server is a data center-class, entry-level server that is powered by up to four 1.593-GHz UltraSPARC IIIi processors. Features such as six PCI slots, two 10/100/1000 Mb/s Ethernet ports, up to four disk drives, and 32 GB of memory prove the rack-optimized Sun Fire V440 server has the capacity to meet the needs of compute-intensive applications. The Sun Fire V440 server also contains high-availability and manageability features in a compact, 4U package. Hot-plug, front-accessible disk drives; redundant hot-plug power supplies (with independent cords); and a System Configuration Card that permits easy and quick identity transfer enhance the Sun Fire V440 server's uptime. Easily visible system and component LEDs provide serviceability features that enable quick diagnosis and repairs, while the system's Advanced Lights Out Manager (ALOM) provides remote management and diagnostic capability.

Key Feature Highlights

Up to four 1.593-GHz UltraSPARC® Illi CPUs, each with 1 MB L2 cache
32 GB memory capacity
Integrated dual-channel SCSI disk controller
Two 10/100/1000 Mb/sec. Ethernet ports
Solaris™ 8, Solaris 9, and Solaris 10Operating System
1+1 hot-plug power supplies/hot-pluggable disks
Six full-length, industry-standard PCI bus slots
Rack-optimized, 4U enclosure
Hardware disk mirroring
Front and rear power and fault LED indicators
Expanded front-access capabilities: Up to four hot-plug disk drives, power switch, media bay, and power supplies
Advanced Lights Out Manager
System Configuration Card (SCC) allows system identity to be transferred to standby systems
Value
UltraSPARC IIIi delivers price/performance and rock-solid Solaris reliability in a rack-optimized enclosure on an entry-level server. Customers can run demanding, mission-critical applications in a low-cost, secure environment.

Low-Cost Network Computing
UltraSPARC IIIi processors and support for the Solaris Operating System, Sun Java™ Enterprise System software, and Sun™ Cluster 3.0 make the Sun Fire™ V440 the ideal server for Web infrastructure computing, corporate compute farms, hosting, and custom-application deployment.

Reducing Complexity
Advanced Lights Out Manager (ALOM) provides remote management functionality, lowering the requirement for onsite staff. The System Configuration Card increases availability by allowing quick and easy system ID transfer. Support for the SunSM Install Check tool enables customers to confirm proper initial system configuration and installation.

Improve TCO
Low acquisition and support costs, low power and cooling requirements, and binary compatibility provide greater flexibility in high-density, horizontal- scaling environments.

Sun Fire V440 Server System Requirements
Architecture
Processor Two to four UltraSPARC IIIi 1.593 GHz
Architecture 64 bit, 4-way superscalar SPARC® V9
Cache 64 KB data, 32 KB instruction and 1-MB integrated L2
Main Memory
4 DIMM slots per processor, registered DDR-1
SDRAM system configurations from 4 GB to 32 GB
Standard/Integrated Interfaces
Network Two 10/100/1000Base-T Ethernet
NetworkOne management 10Base-T Ethernet
Serial management One TIA/EIA-232-F (RJ45) port
Serial One TIA/EIA-232-F asynchronous (DB9) Port
SCSI One Ultra320 SCSI (LVD)
USB Four OHCI-1.0-compliant Interfaces, supporting dual speedsof 12 and 1.5 Mbits/sec. each
Expansion Bus
Six internal PCI 2.2-compliant expansion slots:
Three 64-bit, 33/66-MHz, 3.3-V, full-length
Three 64-bit 33-MHz 5-V full-length System Configuration Front-accessible for transfer of
Card system configuration information, including host ID
| | |
| --- | --- |
| Form factor | 4U |
| Processor | Two to four UltraSPARC IIIi 1.593 GHz |
| Memory | up to 32 GB |
| Maximum internal storage | Up 73GB disks |
| Power Supply | One required, two for redundancy (hot-swappable) with separate power cords |
Contact Us
Mumbai (Head Office): 3, DLH Park, S. V. Road, Goregaon (West), Mumbai, Maharashtra, 400062, India
Phone :+918068094533