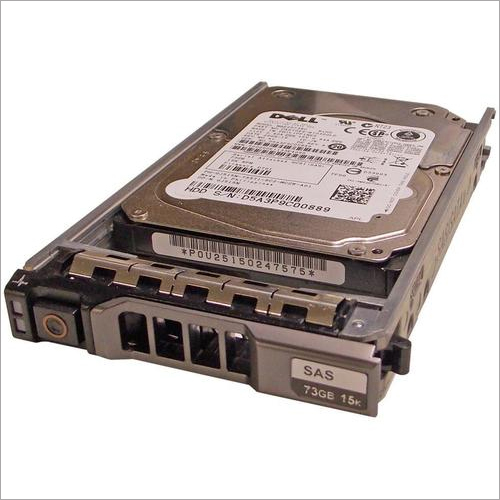 DELL SAS HARD DISK
Product Code : 125
Product Description
DELL SAS HARD DISK
State-of-the-art hard disk drives for demanding enterprise applications.

15K RPM spindle speed and storage capacities up to 300GB
Maximum internal data-transfer rate of 179MB/sec
3Gb/sec SAS interface. Also offered with 4Gb/sec Fibre Channel and Ultra320 SCSI interfaces
1.4M hours MTBF for high reliability
Ideal for high-performance and high-bandwidth applications.

Fujitsu 3.5-inch 15K RPM enterprise hard disk drives feature a host of innovations. The 300GB, 4-platter configuration provides low power consumption, high reliability, and faster internal data rates. Interface options include 3Gb/sec SAS, 68/80-pin U320 SCSI and 4Gb/sec Fibre Channel.

These qualities make Fujitsu hard disk drives ideal for today�s most demanding storage environments. A variety of product offerings with industry leading performance provide systems engineers with greater flexibility when designing rack and tower servers, storage arrays, RAID systems and digital video systems.

Specification
Model

MBA3073RC
MBA3073NC
MBA3073NP
MBA3073FD

MBA3147RC
MBA3147NC
MBA3147NP
MBA3147FD

MBA3300RC
MBA3300NC
MBA3300NP
MBA3300FD

Functional Specifications

Storage Capacity (formatted)(1)

73.5 GB

147.0 GB

300.0 GB

Disks

1

2

4

Heads (read/write)

2

4

8

Bytes/Sector

512

Seek Time

Track to track

Read: 0.2 ms (typ) / Write: 0.4 ms (typ)

Average

Read: 3.4 ms (typ) / Write: 3.9 ms (typ)

Full track

Read: 8.0 ms (typ) / Write: 9.0 ms (typ)

Average latency time

2.00 ms

Rotational speed (RPM)

15,000

Areal density

112.8 Gbits/sq. in.

Data Transfer Rate

To/from media

179 MB/sec

To/from host

SAS: 3Gb/sec, SCSI: 320MB/sec, FCAL: 4Gb/sec

Recording code

60/62 MEEPRML

Interface

Dual Port SAS (RC Series), SCA-2 80Pin (NC Series), 68Pin Wide (NP Series), Dual Port FCAL (FC series)

Head positioning method

Rotary VCM

Start Time

30 s (typ)

Stop Time

30 s (typ)

Buffer Size(2)

SCSI

8 MB

SAS, FC

16 MB

Physical Specifications

Power Requirements

Voltage

5 V � 5%, 12 V � 5%

Spin-up

12V � 5% @ 2.5A (peak)
3.0 A (peak < 100 us)
5V � 5% @ 0.8 A

Idle (typ.)

SAS

12.8 W

SCSI

12.4 W

FC

13.4 W

Dimensions (HxWxD)

25.4 mm x 101.6 mm x 146.0 mm

Weight (HxWxD)

800 g

Ambient Temperature

Operating

5�C to 55�C (HDD surface 60�C max)

Non-operating

-40�C to 70�C

Gradient

20�C/Hour (max)

Relative Humidity

Operating

5% to 95% (non-condensing)

Non-operating

5% to 95% (non-condensing)

Max. wet bulb

29�C (operating)

Vibration

Operating

0.6 mm (5 to 20 Hz) / 1.0 G (20 to 300 Hz)

Non-operating

3.1 mm (5 to 20 Hz) / 5.0 G (20 to 300 Hz)

Shock

Operating

65 G max. (2 ms)

Non-operating

250 G max. (2 ms)

Altitude (operation)

Operating

3,048 m (max.)

Non-operating

12,192 m (max.)

Acoustic Noise (idle sound power) (typ.)

</= 3.6 bels (idle)

Reliability Specifications

Mean time between failures (MTBF)

1,400,000 hours

Error Rates

Unrecoverable errors

1 per 1015 bits read

Seek errors

10 per 108 seeks
SAS Models: MBA3073RC, MBA3147RC, MBA3300RC
SCSI 68pin Models: MBA3073NP, MBA3147NP, MBA3300NP
SCSI 80pin Models: MBA3073NP, MBA3147NP, MBA3300NP
Fibre Channel Models: MBA3073FD, MBA3147FD, MBA3300FD
Contact Us
Mumbai (Head Office): 3, DLH Park, S. V. Road, Goregaon (West), Mumbai, Maharashtra, 400062, India
Phone :+919632485820